About McLube
Since 1954, McLube is a specialist in the development and production of semi-permanent mold release agents for many molding processes, particularly for the Rubber, Composites and Rotomolding industries, as well as anti-adhesive and lubricants, for all types of industries.
Technical features:
Semi-permanent agents and ready-to-cook resins
PTFE technology, fluorine chemistry and synthetic resins
Numerous manufacturing cycles
Low friction, dry, colourless, non-greasy coating
No transfer on castings, no interference with finishing and gluing
Excellent thermal and chemical stability
Products available in aqueous base or in solvent base
REACH, RoHS, FDA Compliance
Benefits:
Improved productivity, reduced cycle times
Reduced deposits on treated surfaces
Enhancement of manufacturing tools' life
Mold and tool's protection against corrosion
Materials:
Elastomers
Thermoset
Thermoplastics
Polyurethanes
Surfaces:
Metal / Plastic / Ceramic molds
Press platters
Flexible chucks / Rigid chucks / Metal rods
Process tools
Packaging:
400 ml aerosol
Bottles of 5 and 20 litres
200 litre drums
Semi-permanent release agents
McLube offers a range of semi-permanent release agents suitable for the various molding processes of Rubber, Composite and Rotational Molding industries.
Technical characteristics and advantages of McLube's semi-permanent release agents:
Dry low friction film, colourless and non-greasy
PTFE technology, fluorine chemistry and synthetic resins
Lasts many manufacturing cycles before re-application
Reduction of mold clogging
No transfer on molded parts
No interference with finishing and gluing
Excellent thermal stability
Products available in aqueous base or in solvent base
Rubber industry
Rubber molding

Semi-permanent release agents and baking resins: two technologies covering various manufacturing processes.
A wide product range suitable for demolding all types of rubbers and vulcanisation systems:

Classic elastomers: NR, SBR, NBR, CR, EPDM, IIR, CIIR, BIIR
Special elastomers: FKM, HNBR, ECO, VMQ and FVMQ, CSM, ACM, AEM
Effective for all types of manufacturing processes:
Injection molding
Compression molding and compression transfer
Belt manufacturing

McLube mold release agents offer manufacturers of technical belts, such as V-belts and drive belts, high-performance solutions for the processing of molds, vulcanising bladders and sleeves, and manufacturing drums.

Tyre manufacturing

McLube mold release agents provide high-performance solutions for the treatment of tyre molds.
Composite industry
Composite manufacturing

The McLube product line for composites and FRPs (Fiber Reinforced Plastic) is composed of sealers and semi-permanent mold release agents.
These agents are recommended for thermosetting resins, epoxy, polyester and phenolic resins.
They are designed for different types of manufacturing processes:
Contact molding
Projection molding
Vacuum molding
Filament winding forming
Resin Transfer Molding (RTM)
Pultrusion
Manufacture of brake pads

McLube agents allow mold release of organic matrix friction materials for molding temperatures up to 220 ° C.
.
Rotational molding

McLube has developed semi-permanent release agents to meet the requirements of rotomolders:
Suitable for different types of plastics
Stable at high temperature
Do not pollute the molded parts
Demandrining agents
Manufacturing of industrial hoses

McLube designs lubricants and non-stick coatings based on PTFE, fluorinated products and synthetic resins, specially formulated for the processing of mandrels used in various industrial pipe manufacturing processes.
These products make it possible to treat different types of flexible mandrels (EPDM type, PP, PA …), as well as rigid metal mandrels (steel, aluminium, stainless steel, etc.) in order to facilitate their extraction from the pipe after vulcanisation.
These dry agents do not transfer to the pipes and do not interfere with finishing and bonding.
Hose manufacturing
McLube also has an anti-stick agent technology for the treatment of rods during the manufacture of autoclaved vulcanization hoses.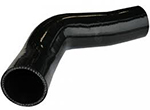 Protection of molds and tools

Corrosion protection

McLube has developed a protective coating of molds and metal parts against storage corrosion, based on PTFE technology, for cold application.
After storage, the molds are reused directly on press without cleaning. The dry PTFE coating serves as a "base-coat", compatible with a subsequent on-press heat treatment.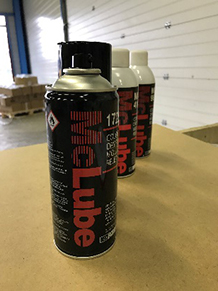 Processing of extrusion tools
The processing of extrusion tools (filter holders, dies, etc.) with McLube technology makes it possible to reduce the clogging of these tools and to improve their cleaning significantly, thanks to a dry and durable PTFE film.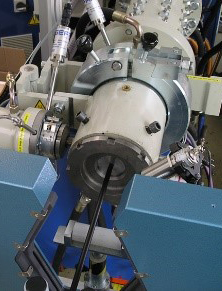 Anti-tack, Low coefficient of friction and
lubricants
Anti-tack processing aids

Treatment of uncured hoses before open steam or pan curing

The created film is colourless, steam resistant, and avoids the sticking of rubber parts during autoclave vulcanisation on trays.
Treatment of blanks before compression moulding
The treatment of raw rubber blanks with McLube products provides effective and colourless anti-stick coatings that improve material creep and air evacuation during molding
Low coefficient of friction

Rubber finished parts processing
McLube has developed agents that allow dry and durable processing on finished parts to reduce friction coefficients:
Persistent treatment of friction parts
Improvement of the sliding of joints mounted in automatic, …
Assembly and Insertion Aids for rubber and plastic parts
McLube mounting aid lubricants are designed to facilitate mounting of rubber or plastic profiles and parts to reduce stress in the workpiece.
Surface treatment of any kind
All metal surfaces, wood, rubber, plastics can be treated with McLube technology to reduce friction coefficients.
Lubricants
Lubricants for pianos

McLube Piano lubricants provide low friction and excellent lubrication characteristics for use in piano tuning and maintenance.
The dry, colourless lubricant coating can handle all types of keyboard tips (recess and pendulum), capstans, lever and return springs as well as different joints.
Their specific formulation also prevents corrosion and discoloration of piano strings and all other metal parts of the piano.
Oven chain lubricant and high temperature bearings

McLube MoS2 is a lubricant suitable for high temperature use on oven chains, conveyors or bearings, to protect against wear, rust and corrosion.
Based on molybdenum disulphide, it does not carbonise, smoke or give off odours during use at high temperatures. McLube MoS2 offers excellent lubrication and a low friction coefficient.
Applications include steel mills, bakery ovens, oven trolleys, paint drying … The product is extremely useful in dirty and corrosive environments.